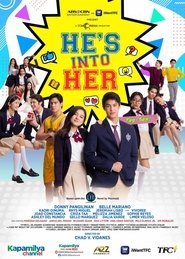 He's Into Her
A coming-of-age story that tackles what the young and the young at heart must be brave enough to fight for: family, friendship, and love.
Maxpein is a spunky provincial girl raised by her grandmother and uncle, after her mother died in Japan when she was 11 years old. Maxpein is suprised when her wealthy father, whom she recently discovered, offers to help pay for her grandmother's hospitalization. Out of gratitude, she agrees to her father's request to live with him and his family in Manila. Maxpein is treated as an unwelcome outsider at Benison International School where she stands up against Deib, the basketball varsity captain.
Deib gets their entire batchmates to prank and bully Maxpein, but the more they engage in their game of cat-and-dog one-upmanship, the more Deib realizes that his goal to crush Maxpein's spirit has turned into a love crush for the girl he never thought he would even like. However, the return of the ghosts from their past and their various family problems threaten to ruin Max and Deib's blossoming and fragile romance.
Views: 410
Actors: Ana Abad-Santos, Ashley Del Mundo, Belle Mariano, Criza Ta-a, Dalia Varde, Donny Pangilinan, Gello Marquez, Issa Litton, Janus Del Prado, Jeremiah Lisbo, Jim Morales, Joao Constancia, Kaori Oinuma, Kuya Manzano, Limer Veloso, Marissa Delgado, Melizza Jimenez, Milo Elmido Jr., Rhys Miguel, Richard Quan, Sophie Reyes, Vivoree Esclito
TV Status: Returning Series
Duration: 50,40 min
Release: 2021